We decided to combine a second symposium with the 25th Stuttgart Advanced Course for Functional & Aesthetic Rhinoplasty in 2017.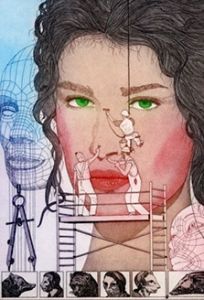 Definitely the last one under the direction of  Prof. Wolfgang Gubisch, the senior director of our department of Facial Plastic Surgery at Marienhospital Stuttgart.
Nose reconstruction is our most challenging field of Facial Reconstructive Plastic Surgery. The development of techniques is permanently going on. Thus updating on proofed procedures is one of our objectives for a new symposium.
The main topics will be the concepts concerning partial and total three layer defects of the nose, which means reconstruction of lining, framework and cover. Again we also want to give the participants the chance to present cases and discuss solutions altogether. The way for submission you will soon find on the website.
We are happy to announce Frederick Menick from Tucson, Arizona and his outstanding teaching in our faculty again. His major contributions always inspired us to solve difficult surgical problems and pass current limitations. His new book on nasal reconstruction will be available at the symposium.
Joachim Quetz from Kiel, Germany, is also highly specialised in complex nose reconstruction and will present his preferred techniques – also available in his many publications.
This time we also are proud to announce Jong-Woo Choi from Korea, otherwise very busy in East Asian meetings. He last but not least presented great results of reconstruction in vascular malformations of the nose and beyond.
Enrico Robotti from Bergamo, Italy, faculty member of the rhinoplasty anniversary course and the nose reconstruction symposium will present his most interesting concept of downgrading a nasal defect by reduction rhinoplasty to facilitate nasal reconstruction in a one-stage procedure.
Welcome again to Stuttgart, no matter if you just want to take part in the symposium on nose reconstruction or also take the chance to learn more about rhinoplasty in the preceding live surgery course. One field inspires the other and we look forward to share that with you.
                                            Dr. med. Sebastian Haack                        Dr. med. Helmut Fischer
                                                     Course Director                                       Course Director
ORGANIZATION & REGISTRATION
boeld communication GmbH
Adlzreiterstrasse 29
80337 Munich – Germany
T. +49 (0)89 - 189046 0
F. +49 (0)89 - 189046 16
congress@bb-mc.com
Webseite des Veranstalters